The Magic of Jolly Phonics, at your fingertips
The Comprehensive, Easy, and Fun way to teach Jolly Phonics in your classroom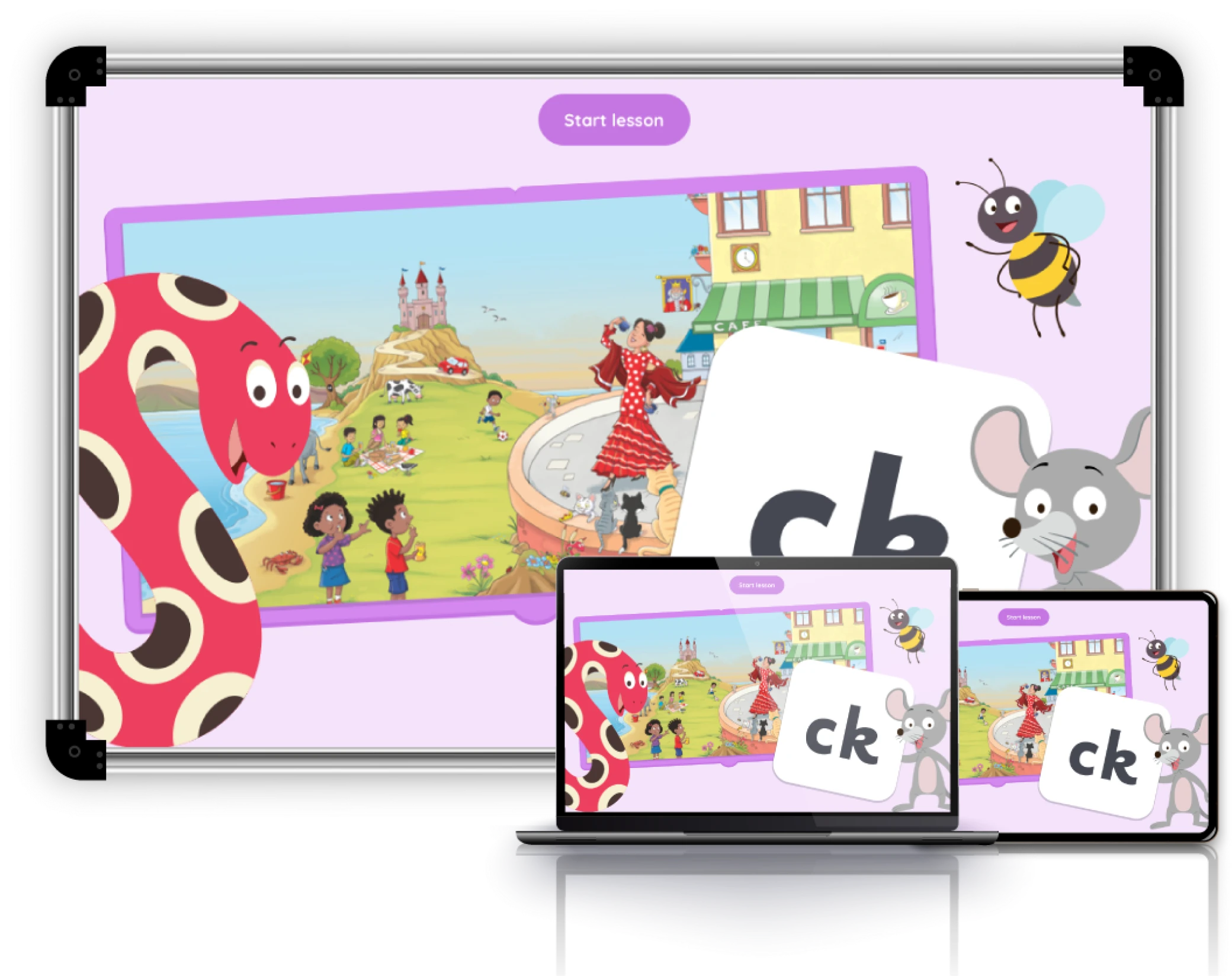 Comprehensive
Teach exactly according to the programme, and get excellent results.
Full and extensive year's programme with more than 150 lessons.

Aligned to the handbook and pupil books

Worksheets for every lesson.

Over 100 unique lesson activities.
Easy
Teaching Jolly Phonics has never been so easy, simply follow the steps of the lesson, and be guided through the teaching experience.
Be guided through Jolly Phonics teaching, just follow the steps.

Teaching notes and planning guidelines for each activity.

Perfect for teachers beginning their Jolly Phonics Journey.

Audio for every, story and word. Hear words blended and segmented.

Teacher Lead: Assistance from the application is available, but the teacher is in control

Provides framework for expansion for experienced and creative teachers
Fun
Children love the lessons, and are completely absorbed in their learning.
Fun, engaging animations, for formation, blending, and segmenting.

Activities for the whole class, get children up to the board and interacting.

Multisensory, great for young children.
Accessible
Online, downloadable, setup in minutes, multiple profiles
Fully web-based platform.

British or American English.

Ability to create multiple, personalised staff/classroom profiles

Print or Precursive letters.
Trusted by teachers
Loved by children
More than 150 lessons and dozens of different activities.

Teaching notes and planning guidelines are provided for each lesson.
"Jolly Phonics is a fantastic way to teach phonics to children. Phonics should be fun and engaging and Jolly Phonics most definitely supports this. The children in our school love singing the songs and doing the actions!"
Lucy Davies
Teacher, Rush Green Primary School
Programme
Step 1
Introduce the 42 letter sounds
Step 1 focuses on the five key skills of Jolly Phonics to teach reading and writing.
Learning the letter sounds
Children are taught the main 42 letter sounds. This includes alphabet sounds and digraphs such as /sh/, /th/, /ai/, and /ue/.
Learning letter formation
Using different multi-sensory methods, children learn how to form and write the letters.
Blending
Children are taught how to blend the sounds together to read and write new words.
Segmenting
Children learn to identify and break down the sounds in words.
Tricky Words
Children learn that there are irregular spellings for certain words.
Step 2
Build on the initial teaching
Step 2 builds on the teaching in Step 1 by introducing new tricky words and the alternative spellings of vowels.
Step 3
Consolidate the teaching
Step 3 consolidates the learning of Steps 1 and 2 by introducing new tricky words and spelling patterns, as well as long and short vowels.
Pricing
Subscription for Schools
Unlimited access to all content and activities.

An account for every teacher.

Track the progress of multiple classes.
Annual Subscription
£250.00
Annual Subscription
US$300.00
FAQs
Can I access Jolly Classroom through my browser?
Can I use Jolly Classroom offline?
What devices can I run Jolly Classroom on?
What's the difference between Jolly Classroom and Jolly Phonics for the Whiteboard?
Can I still use Jolly Phonics for the Whiteboard?
How do I set up Jolly Classroom with my school?
What can I do if I have a problem using Jolly Classroom?